Cooler weather is finally upon us and that means getting out into nature. Glorious jewel-toned foliage and crisp fall air coax us from our cozy abodes and put us in a magical autumn mood. One wonderful way to enjoy cooler temperatures is to go hiking and there's no need to leave your dog behind!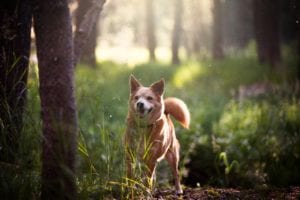 Canines make excellent hiking companions. However, it's important to prepare your pup for your impending trek through the woods. As the best vets in Apex, North Carolina we've gathered a few handy tips to keep your furry friend safe while taking a hike.
Just What the Doctor Ordered
First and foremost, always schedule your dog's annual check up. At this appointment, your vet will verify that your pet is up-to-date on all the necessary vaccinations to keep your canine companion safe and healthy. Not only is this a matter of good health maintenance, it also ensures your pet is up to date on their rabies vaccinations. Walking in the woods means your dog may encounter feral and potentially rabid animals.
Aside from updating your pet's vaccinations, our experienced vets in Apex, North Carolina will give your pet a nose-to-tail exam. Let your vet know that you and your pal like to hike and that you want to make sure he is healthy enough for hiking and other vigorous exercise.
Finally, if you haven't done so, it is a great time to get your pet microchipped. It adds a bit more peace of mind knowing that if you do get separated, whomever finds your dog can take it to any shelter or local vet where she will be scanned and you will be notified. If your dog is already microchipped, make sure your chip is registered and your information is up-to-date on the Pet Chip Registry.
Thirst
Even if you take a short hike with your dog, be sure to carry fresh water. Dehydration can happen quickly in canines, so let your dog lap it up regularly throughout your walk.
Do not let your dog drink water from puddles, streams, rivers or other bodies of water as these may contain dangerous and potentially fatal pathogens and/or toxins. If your dog just can't help herself from drinking whatever water she encounters, let your vet know so they can ensure you have the right vaccinations.
Hunger
Though dogs don't necessarily need snacks when hiking, it's always a good idea to bring along a few treats in case you get lost or another emergency arises during your journey. We recommend bringing a baggie of their favorite dog food and a few treats along with a collapsible food bowl.
Prepare
Hiking is fun, but it can also be somewhat perilous. Along your adventure, you may encounter wild animals, snakes, insects, rocks, sticks, bad weather, and myriad other dangers. So be prepared with a basic first aid kit and a phone that is fully charged should you need to call for help. Always let someone you trust know where you'll be when you go on a hike and that you are taking your dog with you.
Now that you're packed up and ready to go, be sure to consider the terrain on which you and  your dog will be hiking. Remember that canines have soft pads on the underside of their paws and walking on certain surfaces can cause pain, discomfort and even injury. Your dog may not show it because he is so happy to be with you and wants to please you. Plan ahead and pick a Fido-friendly path to travel.
Aside from picking the appropriate terrain to ramble upon, you can double up on your dog's comfort by fitting them with protective boots, socks, or shoes. Remember to let your dog give these accessories a trial run before your hike to see how they react to them first.
Smaller dogs can hike alongside of you, or they can trek along in a handy backpack especially designed to carry canines. Make sure you read the instructions and fit the bag to your body before hiking to ensure you are both comfortable.
Speaking of backpacks, working dog breeds often like to wear backpacks of their own. Just make sure to purchase the correct size for your dog and fit it appropriately for maximum comfort.
Leash
While it may be tempting to let Rover roam free, it's truly best to keep him on a leash while hiking. You'll likely encounter other dogs along with wild animals such as squirrels, chipmunks, snakes or lizards who catch your pet's eye and get them running. Losing your dog in the woods is the last thing you want to do.
Aside from leashes, avoid bringing untrained dogs on a trail. A little obedience and manners training makes a world of difference when bringing your dog outdoors.
Parasites
After your adventure, thoroughly check your dog for ticks. Long-haired pups hide bugs better, so break out your flashlight, magnifying glass, and fine tooth comb to determine whether they were a target for these pests. Remove any ticks you find and keep them in a sealed bag in your freezer in case you need to identify the species in the event that your dog contracts a tick-borne illness.
Of course, if you are following your vet's recommendation, your pup is getting a monthly supplement to prevent ticks and fleas. There are so many safe and effective options for flea and tick prevention, there is sure to be one that is the right fit for your and your dog's preferences. Even when using the best parasite preventatives, it's best to give him a good once over after time spent in wooded areas since no product is 100% effective at keeping all the fleas and ticks off your best friend.
Careful planning and preparation allows you to have a great time with your best friend on your hike. Exercise and fresh air are just as good for our pets as they are for us. So go on, take a hike!  And remember to ensure your pet has the recommended vaccinations and you and your dog are fully prepared for your outing by speaking to one of our experienced vets in Apex, North Carolina.