Harmony Pet Resort & Spa understands that it isn't easy to leave your pup behind when you go out of town, but we strive to ensure that they are safe, comfortable, and having a great vacation themselves. At our facility for dog boarding in Apex, NC, every dog that boards with Harmony is treated like one of our own. They have hours of playtime with their canine friends throughout the day and a comfy place to snooze and rest at night. We know that providing ample time to socialize and play greatly reduces your dog's stress and increases the happiness of your beloved pup!
And for those pups who don't enjoy playing in groups, our trained Resort team provides customized individual play instead.  Whether your pup wants to play fetch, lounge in the sun, or just get belly rubs all day, we will ensure that every dog that visits Harmony Pet Resort has a fun, positive experience!
Assessment
We require an assessment for each dog who either boards or comes to daycare at Harmony Pet Resort & Spa. We do this to evaluate how each pup interacts with humans and other dogs in social playgroups. There is a one-time fee of $40 for this assessment. At the end of the day, we will provide a report card that will give you an overview of your dog's behavior and social skills.
Daily Schedule
Drop-off begins at 7:30 AM.

At 9:00 AM, our morning daycare sessions begin. Our trained resort attendants monitor playgroups to ensure that all our pups are getting along.

For the duration of the day, your dog will have several monitored hour-long playgroup sessions with rest

in between so they are ready for the next play session.

Dinner will be served at 5:00 PM unless otherwise requested. By the end of the day,

your dog will be happily exhausted and eager to slumber!
Harmony Pet Resort & Spa makes sure that every dog that stays with us has a fun, positive experience so you pick them up happy and well-exercised!
Pick-up and Drop-off Hours
Monday through Friday:

7:30 AM – 6:00 PM

Saturday: 8:00 AM – 12:00 Noon


Sunday: 4:00 PM – 6:00 PM (pick up only, no drop off)
Dog Boarding Pricing
Our boarding prices are all-inclusive. Boarding is $63 for the first dog and $59 for the second dog if sharing a run.
Dog Boarding Pricing with Doggie Daycare Packages:
If you have one of our Doggie Daycare packages and would like to board with us, each day of your stay uses one day of your Doggie Daycare package. Just add $27 for overnight! And if you have two dogs sharing a run, then just add $23 for your second dog.
Doggie Daycare packages do not expire! You may use your package all at once or a little at a time.
For more information regarding our Boarding or Daycare, please contact us by phone at 919-323-8877. We are happy to answer any questions you may have!
Go-Home Bath
For pups staying five nights or more, we provide a go-home bath (wash, dry, and brush). If your pet isn't staying for five nights but you would still like a go-home bath, our pricing is as follows:
Under 35 pounds:

$30

35-70 pounds:

$35

Over 70 pounds:

$40
If you would like to include ears cleaned and nails trimmed, add $23. If you would like to include an anal gland expression, add $32.
Food and Treats
We are happy to feed your pup its regular food. We just ask that you bring it portioned into individual baggies for each meal to help us ensure dietary consistency. However, if you forget, we are happy to feed your dog with Purina EN, which is designed to be easy on the stomach. You can also bring safe treats (that don't splinter) for your dog. Please advise us on how many and how often you would like treats offered to your pet.
Belongings
You are welcome to bring a couple of your dog's favorite belongings. To help us get them back to you, please clearly label items with your pet's first name and last initial. While we cannot guarantee the return of these items, labeling them will help us greatly. Stuffed dog beds are not recommended as Harmony provides comfortable Kuranda cots to every pup boarding with us.
Medication
Harmony Pet Resort staff will happily give all medications to your pet at no extra charge. All medications MUST be in their original container with the original prescription label and instructions. We will NOT be able to offer any medications that are not in their original container or that are not prescribed to your dog.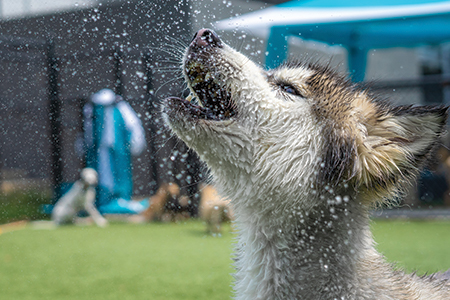 Top 7 Reasons To Put Your Best Friend in Doggie Daycare
Socialization skills: promotes confidence, good social skills, and tolerance for rude behavior from other excited dogs
Outlet for energy: provides your dog with physical exercise and mental activity during the day and decreases destructive behavior at home
Loneliness: A helpful option if your dog does not like to be left alone
Bathroom breaks: no more messes to clean up when you get home from work – especially good for puppies who need extra potty breaks
A change of scenery: break up the boredom and give your dog days to play and have fun
Make new doggie friends: small, supervised play groups that keep your pet safe and help form social skills
Decreases barking: your dog will come ready to relax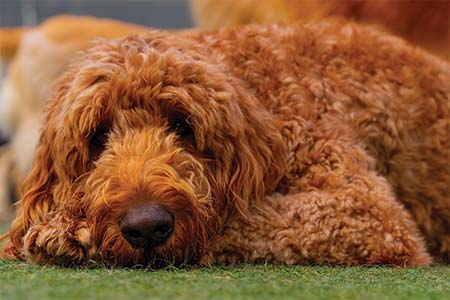 To reserve your spot at our doggie daycare or dog boarding Apex, NC facility, your pet will need to be a current Harmony client and have had an exam within the past year.
Call us today to schedule your dog's vacation reservation!
You may reach us at 919-323-8877 or

petresortspa@harmonyanimalhospital.net
.