In Memory of Ambassador Russell
Harmony Animal Hospital, Pet Resort & Spa was blessed to have our very own special mascot…..Russell.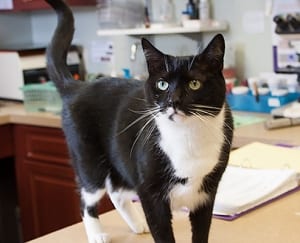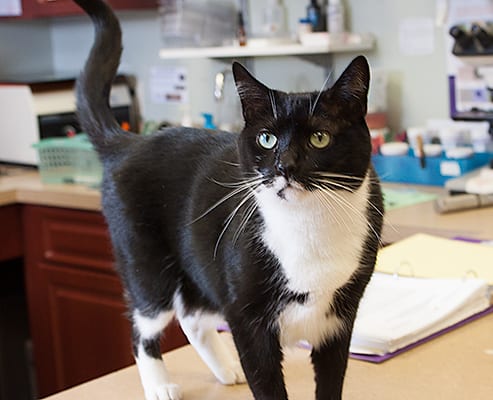 On June 2, 2023, Russell passed away and all our hearts at Harmony were broken. Russell was our true companion and champion.
At Harmony Animal Hospital, we believe that some of the best hospital mascots are those that happen to find their way into a hospital via a difficult road– which is exactly what our hospital kitty Russell did. He found his way into our lives, our hospital, and our hearts at the perfect time, and became a permanent resident of our clinic.
We were so proud of our mascot Russell that we officially gave him the title of Hospital Ambassador. You could not ask him personally (unless you happen to speak "cat"), but we are pretty sure our kitty was very proud of the title.
If you paid close attention when you visited, you saw that Russell spent a lot of time checking around to make sure his kingdom was well cared for. Russel was often found reigning over his domain on top of the Keurig, waiting to serve you a warm drink!
Russell's Story
Here is how Russell came to live with us and become our mascot.
Russell joined the Harmony Animal Hospital family in early 2010. He was found running around outside a church where he jumped into the arms of a Harmony Animal Hospital client. He had no collar or microchip and was not neutered; thus, Russell made his way into our hearts as a stray who just wanted to be loved.
During his first few weeks with us, we searched for his owners. Ultimately, we determined he was in fact a cat without a home, and due to his sweet disposition, we gladly welcomed him into our family. It didn't take long for Russell to feel perfectly at home and decide he liked his position as Ambassador very much.
Role of Ambassador
While his official title was Hospital Kitty, Russell insisted he was much more than a mere "pet." Rather, he saw himself as a sophisticated trouble maker — one that didn't mind taking responsibility for his mischief either. After all, where's the fun in doing something wrong without being able to watch the expressions of those around you?
When Russell was not sleeping on hospital keyboards or watching Animal Planet in the lobby, he enjoyed wine tastings, bow tie conventions, and watching James Bond movie marathons.
Russell was also a very unique male cat who absolutely adored kittens. He could be found grooming, loving, and tending to litters of kittens that were brought into Harmony.
He took care of the Hospital, our team, and all our patients and clients.
We miss him dearly. He will always be part of the Harmony family.