Here at Harmony Veterinary Hospital, we believe no animal clinic is truly complete without a mascot.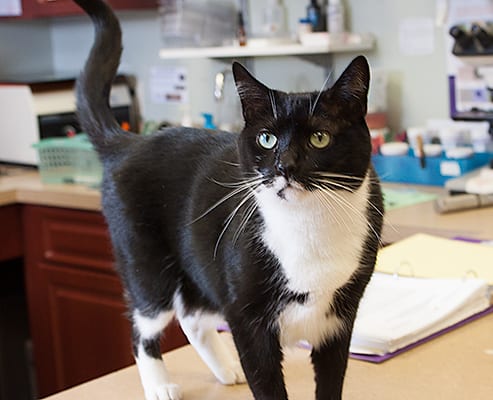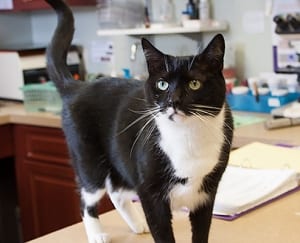 We also believe some of the best hospital mascots are those that happen to find their way into a hospital via a difficult road– which is exactly what our hospital kitty Russell did. He found his way into our lives, our hospital, and our hearts at the perfect time and became a permanent resident of our clinic. We are so proud of our mascot Russell that we have officially given him the title of Hospital Ambassador. You might not be able to ask him personally (unless you happen to speak "cat"), but we are pretty sure our kitty is proud of the title. If you pay close attention when you visit, you'll see he spends a lot of time wandering around to make sure his kingdom is well cared for. Russel is often to be found reigning over his domain on top of the Keurig, waiting to serve you a warm drink!
The Back Story
Here is a brief look into Ambassador Russell's story – and how he came to live with us.
Russell joined the Harmony Animal Hospital family in early 2010. He was found running around outside a church where he jumped into the arms of a Harmony Animal Hospital client. He had no collar or microchip and was not neutered; thus, Russell made his way into our hearts as a stray who just wanted to be loved.
During his first few weeks with us, we searched for his owners but ultimately determined he was in fact a cat without a home, and due to his sweet disposition, we gladly welcomed him into our family. It didn't take long for Russell to feel perfectly at home and decide he liked his position as Ambassador very much.
Role of Ambassador
While his official title is Hospital Kitty, Russell insists he is much more than a mere "pet." Rather, he sees himself as a sophisticated trouble maker — one that doesn't mind taking responsibility for his mischief either. After all, where's the fun in doing something wrong without being able to watch the faces of horror of those around you?
When Russell is not sleeping on hospital keyboards or watching Animal Planet in the lobby, he enjoys wine tastings, bow tie conventions, and watching James Bond movie marathons. Russell is also a very unique male cat who absolutely adores kittens and can be found grooming, loving and tending to litters of kittens that are brought into Harmony, and he continues to take care of the Hospital, our team, and all the patients and clients that find their way to us.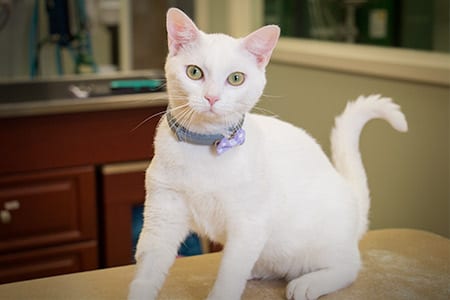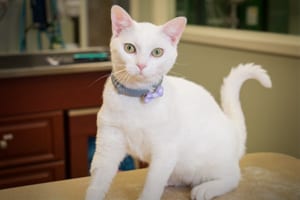 In late January 2016, Blizzard was found during a winter storm by a good samaritan and brought to Harmony Animal Hospital. He was just a kitten, barely old enough to eat solid food, and in need of medical care. As he recovered from his ordeal, it was discovered that Blizzard had a pretty significant heart murmur. Unsure if he would be a good candidate for outside adoption due to his condition, the staff at Harmony sent him to the specialists over at the NC State College of Veterinary Medicine. It was determined that in spite of his heart defect, he should live a normal and healthy life!
Making the Adjustment
By this point, Blizzard had been staying with us for a few weeks and suffice to say had worked his way into our hearts. Blizzard was adjusting well to hospital cat life, and we began discussing making him a permanent fixture of our team. As many of our longtime clients know, we lost our dear friend Carl in early 2015. We had always known that one day, when the time was right, we'd elect another Ambassador kitty to join Russell. As it happens, Blizzard took on the "little brother" role, much as Russell had with Carl, and it was soon clear to us that he would be sticking around. A brief vote at a staff meeting, where all hands were raised in favor, was all it took to make things official.
Blizzard's Interests
Named for his white coat and the wintery weather he was found in, Blizzard's interests include annoying his big brother Russell, mistaking trash for an exciting new toy, laying in wait around corners to sneak attack the ankles of unsuspecting staff, and dramatically meowing when he wants attention. Additionally, he fancies himself a junior Picasso, and enjoys playing in the sink and then leaving a trail of wet kitty prints over whatever papers he can find.
Often found intentionally knocking things over in the treatment area, he can also be spotted making impromptu rounds of the reception area in the early morning or late evening when things are quieter. Being a youngster, Blizzard provides us with much-needed laughs on a daily basis as we watch him grow and discover the world around him.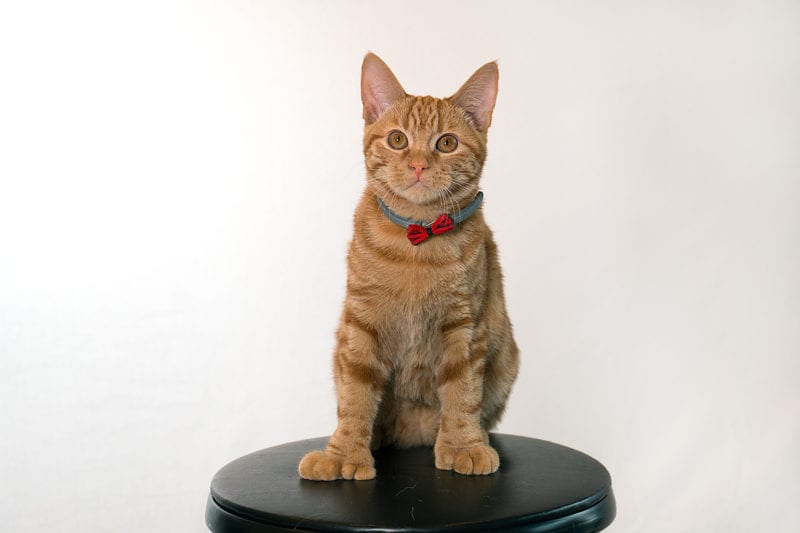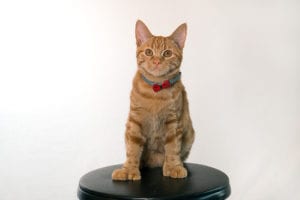 Floyd came to us as a five week old kitten after being found taking shelter under a client's car. He was underweight and his paw pads were blistered, likely from trekking across sun-baked pavement. He was only in our care for a couple of weeks before Dr. Jodi decided we would keep him, as the little scamp had purred his way into all of our hearts.
Floyd gets his name from a professional boxer, and one look at his feet will tell you why. His absurdly big mittens are the result of a genetic mutation known as polydactyly. Cats with this condition are also referred to as Hemingway cats, after author Earnest Hemingway took a special fondness to them and lived among several. Ordinarily, cats have a 18 toes; Floyd has one extra toe on each foot, bringing his grand total to 22.
Extra toes come in handy when your number one hospital pastime is to steal food. Floyd will eat anything he can find, including vegetables, but he has a special fondness for carbs. Oblivious to the fact that he is a carnivore, he has been caught stealing bites of staff member's lunches or running away with an entire bagel in his mouth on numerous occasions, going as far as to chew his way into plastic lunch bags to attain his prize.
Floyd fits into hospital dwelling quite well, and has a special fondness for large dogs twenty times his size with bushy wagging tails for him to pounce on. He loves to play wrestle with Blizzard and apparently went to the Russell school of patient etiquette, as he yowls like a pint-sized bobcat when it comes time for vaccines. His personality and antics keep us smiling during long days, and we think he makes an excellent addition to our team of feline hospital ambassadors, even if we can no longer eat lunch in peace.