With the ongoing advances in modern medical technology and health care, the same state-of-the-art facilities and services that we have come to expect for ourselves are mostly now available for our furry friends as well.
With veterinary care ranging from sophisticated dental wellness to knee replacements, chemotherapy, laser surgery, and quality accommodations for overnight hospitalization, there's little that can't be done for our pets. These advancements do add costs, however, and veterinary care expenses will continue to increase as the technology available to enhance our pets' quality of life and longevity does.
There IS a solution: Pet insurance.
At Harmony Animal Hospital, we understand that every patient's circumstances are unique. In most cases, however, pets benefit directly from pet parents taking out insurance to cover veterinary bills.
Reasons to Get Pet Insurance
From your veterinarian's point of view, it means we're able to provide the necessary care using the highest quality products and services. From your viewpoint, it means you can let us do our work helping your furbaby get well without worrying about how you'll handle the bill. There's no cutting corners to keep the costs down, and no concern about whether you can afford the prescribed treatment.
We offer a 30-day free trial through Trupanion for pets aged between 8 weeks and 14 years, which must be activated during a wellness exam. Trupanion pet insurance provides various options depending on your budget and the age and type of your pet. Ranging from high-deductible plans to low- or no-deductible plans, your choice depends on the plan that works for you.
Here are our guidelines to help you determine whether pet insurance may be right for you:
Your breed of pet is known to have a high likelihood of developing specific genetic problems. Your pet has had previous medical problems, which could recur in the future.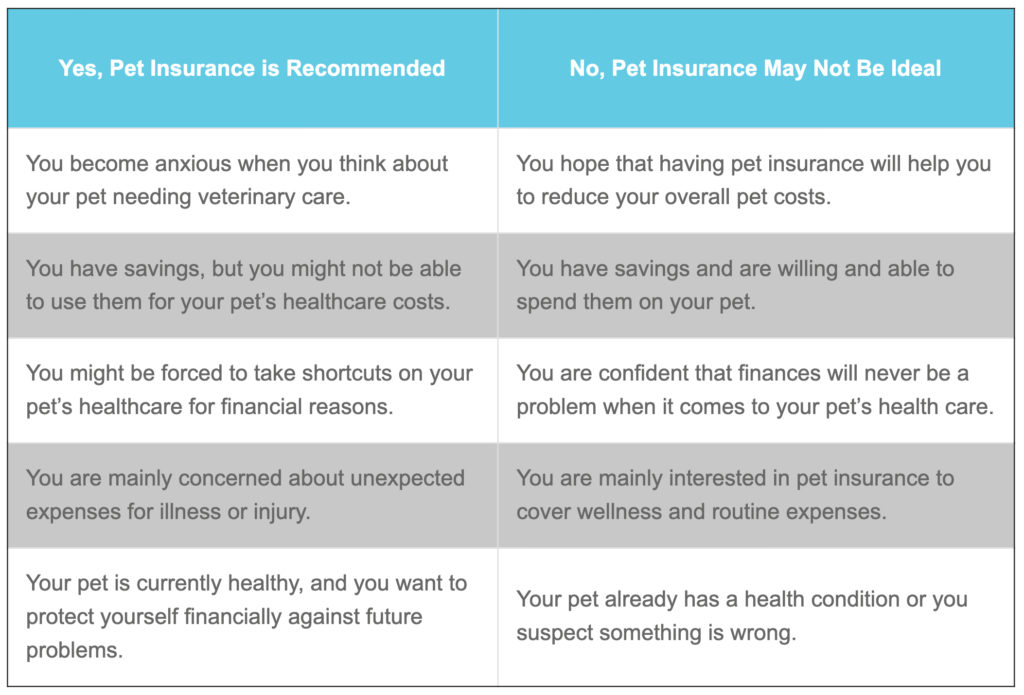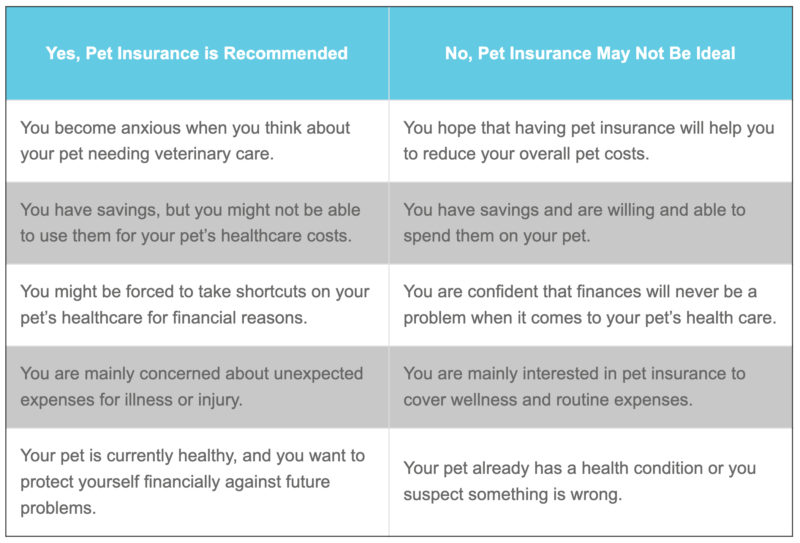 How Pet Insurance Works
Pets are covered almost immediately for accidents and injuries, although there may be a waiting period for illnesses in some cases. You get 90% coverage for all qualifying conditions and major medical expenses, such as:
Surgeries, diagnostic procedures, and hospitalization
Hereditary and congenital conditions
Specialist care
Prescribed nutritional supplements
Prescription diets
Physical and rehabilitative therapies*
The insurance company reimburses you for your chosen percentage of qualified out-of-pocket expenses after you've paid the costs initially. In the event of major surgery or other qualified procedures, you can submit a veterinary estimate to the insurance company for advance expense approval.
*Optional riders are available for items like hip dysplasia, acupuncture, kidney transplants, and behavioral training or therapy.
How Much Does Pet Insurance Cost?
Monthly premiums range between $30 and $80 per pet, depending on factors such as:
The size, type, and breed of pet/s you have, although there aren't any breed-specific exclusions
Your pet's age at enrollment. This has a considerable impact on the monthly premium.
The co-insurance and deductible options you select, which determine your plan.
The reimbursements you get are based on the plan you choose. It's typically much easier to pay small amounts monthly rather than a large medical bill all at once. Remember, it's not a matter of if your pet needs care, but when.
What Does Pet Insurance Cover?
Once again, this depends on your plan. Apart from pre-existing conditions that your pet was treated for in the preceding 12-month period, you get full coverage up to 90% of the costs after your deductible and the cost of consultation is paid.

The deductible applies per illness or condition, so once it's paid for a chronic condition, all remaining veterinary bills are reimbursed at 90% coverage. The higher the deductible you choose, the lower your monthly premiums are.

Trupanion puts no restriction on the amount of care your pet can receive, so there are no incident, annual, or lifetime limits.
In addition to Trupanion, there are other pet insurance companies to consider, such as:
These are just some of the options available to pet owners, so before you make your decision, we recommend you look at what each insurer has to offer. It's not just about price; some insurance providers offer wellness coverage, while others offer dental plans. All these affect the cost of the premiums.
Here are some examples of the top 10 claims paid to North Carolina pet parents by Trupanion: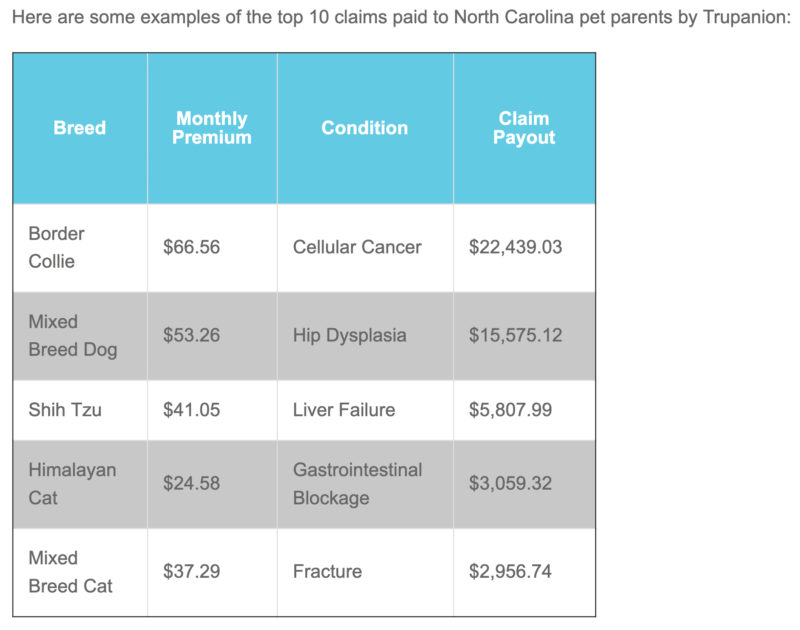 Making the Decision
Remember, your pet is family. Being responsible for his or her life takes good financial planning so that when situations arise, you can make decisions based on care, not finances. Pet insurance ensures you can do what's best without worrying about what you can afford.