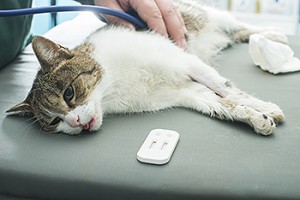 Emergency vet clinics exist to provide what no pet owner wants to think about: urgent, after-hours care during an accident or unexpected illness.
Some clinics offer service during nighttime hours only and after their regular staff has gone home, while other clinics (usually the larger ones) have a dedicated emergency room where urgent treatment can be given at any time.
How to Find an Emergency Vet Clinic
Ideally, you should find out in advance where the closest emergency vet is located. Your regular vet can recommend the best option, you can check the local Yellow Pages listing, or do a quick online search to find out what your options are. If at all possible, make a quick trip to the clinic and meet the staff. This serves two purposes: it ensures that you know how to get there (the last thing you want during an emergency is to try and figure out directions) and it helps you understand how they operate, their prices and more.
If you didn't research your emergency options in advance, call your local vet immediately. Most clinics will have a recorded message after hours indicating where the closest emergency clinic, pharmacy or hospital is located. This might be your best option if you have an emergency late at night when vets are already closed for business.  At Harmony Animal Hospital, we try to see our own emergencies and have even had our veterinarians come in and meet clients on their days off.
When to Go to an Emergency Vet
Even if your pet is sick, some problems can probably wait until the morning for your regular vet to open again. However, if you notice any of the following, rush your pet to an emergency vet for treatment:
Bleeding from the nose, eyes or a deep wound
Trauma from an accident (getting hit by a car, a fall, etc.). Even if you don't see any bleeding or problems, there could be internal damage that requires emergency treatment or surgery
Acute swelling anywhere, especially if it's sudden
Bites from any wild animal
Lethargy, disorientation and lack of response to being called
Obvious signs of pain, especially if they appear suddenly
Seizures
Poisoning
Male cat not urinating or crying when attempting to urinate.
Always rush to the emergency vet as soon as possible for any of these issues. The longer you wait, the more serious the problem will become. This means a much higher risk for your pet, along with higher bills and a longer recovery time. Most emergency vets will have all the necessary equipment and drugs needed to treat all the conditions listed here. If you want to make sure your local one does, call them in advance. For example, not all emergency vets store anti-venom for snake bites, so you would want to know this in advance so you can head to the right clinic in case of an emergency.
What to Expect
Just as with humans in the emergency room, emergency vets will typically see the most urgent cases first. If you have a major emergency, call the hospital while you're on the way so they'll be expecting you and ready to tend to your pet as soon as you walk in the door.
One thing to keep in mind: emergency vet fees are usually higher than what you would pay at your normal vet during regular business hours. If your pet receives overnight care at an emergency room, ask if he can be released and continue treatment at your regular vet in the morning. This will not only save you money, but it will ensure that your pet goes back to being treated by the doctors who understand his or her past medical history.
Click here for our list of local emergency vet clinics.
[wpfilebase tag=file id=7 /]