It is no secret that dogs enjoy chewing on bones and various toys. How do you choose the right chew toys for your dog? Many toys can harm your dog's digestive tract or create blockages. As the best veterinarians in Apex, we recommend that dog owners avoid animal bones and other excessively hard chew toys such as cow hooves, Nylabones and deer antlers.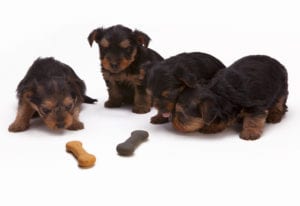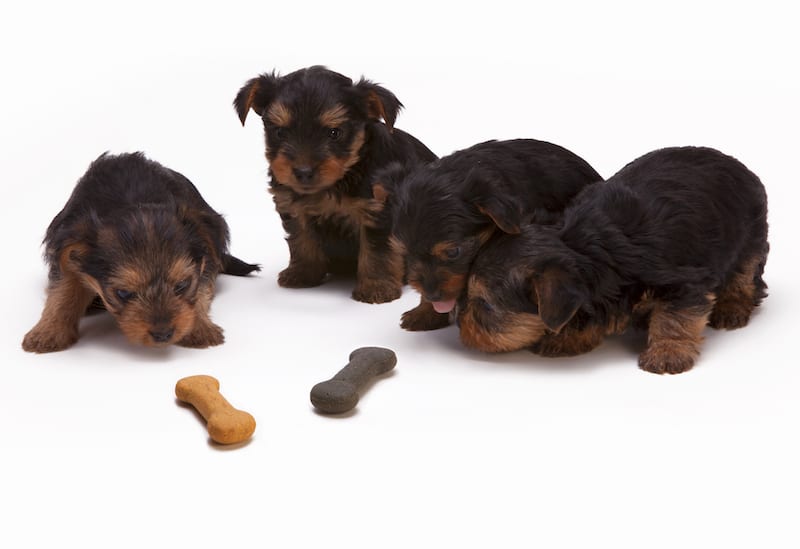 What You Need To Know
Your dog's digestive tract includes their mouth, teeth, esophagus, stomach, intestines, liver, pancreas and anus. After your dog eats, his stomach produces almost double the acid of humans. It can take your dog up to 8 hours to digest what he consumes. So, choosing the right chew toys for your dog is important for not only their oral health but their digestive health, as well.
Hard chew toys have been reported to cause high instances of teeth fractures. A broken or fractured tooth is extremely painful and can become abscessed. An abscessed tooth is an advanced infection that can lead to widespread infection throughout your dog's body and even cause bone deterioration.
Recommended Chews For Your Dog
Finding the right chews for your dog can be tricky.  In this list we share recommended chew toys that can handle heavy chewers as well as support oral and digestive health.
OraVet
Shaped similar to an animal bone OraVet dental hygiene chews serve a dual purpose. Not only do they help clean your dog's teeth, they also create a protective barrier around the teeth. The barrier is created by the ingredient Delmopinol. OraVet chews are the only dog dental hygiene product that contains this protective compound. The chews also reduce gingivitis or bad breath.
OraVet chews should be given based upon the weight of your dog. Speak to one of our experienced veterinarians in Apex for more information about the right OraVet chew for your dog or puppy.  
Tartar Shield Rawhide Chews
Tartar Shield Chews are bacon-flavored – making them a sure hit with your pooch. Made from rawhide, these protect your dog's gums and teeth. Additionally, there is clinical evidence that these chews offer a variety of benefits to your dog including reducing bacteria, preventing plaque buildup by more than 50% and freshening breath.
The Tartar Shield Rawhide Chews were awarded the Veterinary Oral Health Council's (VOHC) Seal of Acceptance for Tartar Control.
Greenies Dental Treats
Greenies Dental Treats are designed to look like a toothbrush. Though they are not a replacement for brushing your dog's teeth, greenies do work to support healthy gums and clean teeth. Made from all natural, highly soluble ingredients, these treats are tasty, moist and chewy. This texture helps protect your dog's teeth from tartar and plaque. Greenies are available in four different sizes: teenie, petite, regular and large (based on your dog's weight) and three different flavors: blueberry, fresh and original.
Classic Goodie Bone
The Classic Goodie Bone from Kong Company resembles an animal bone but it's actually made of durable rubber. Available in three sizes, the Classic Goodie Bone also bears one of the hallmarks of Kong products – the Goodie Grippers on each end of the bone. These grippers are perfect for stuffing the chew toy with tasty treats and snacks for your dog. From kibble for puppies to frozen delights for an adult dog, you can use your dog's favorite treats to encourage chewing.
Extreme Goodie Bone
The Extreme Goodie Bone serves as an ultra-strong and safe rubber toy for your dog for both indoor and outdoor play. Just like the Classic Goodie Bone, this chew toy also features Goodie Grippers to stuff snacks and treats in for your best friend. It is black, resembles an animal bone and is available in two sizes.
Puppy Goodie Bone
Kong Company's Puppy Goodie Bone is designed for puppies up to nine months of age. Although it is made from durable rubber, the quality of rubber is soft and perfect for supporting your puppy's oral growth and development. This pink-colored bone also features the Kong Company's patented Goodie Grippers to entice heavy chewer breeds such as Labrador Retrievers or Australian Shepherds.
These bones are available in two sizes. Fill the ends with snacks and treats and it is sure to keep your puppy entertained.
Choosing Your Bone
To choose the best and safest chew toys and oral hygiene chews for your dog start by consulting the list of approved dog chews from the Veterinary Oral Health Council . The toys and dental chews we've mentioned here are recommended by our experienced veterinarians in Apex.
For more information about the importance of oral health watch Dr. Jodi's short series on dental care for your pet.
Sources:
Veterinary Oral Health Council
Washington State University: Digestive System of a Dog