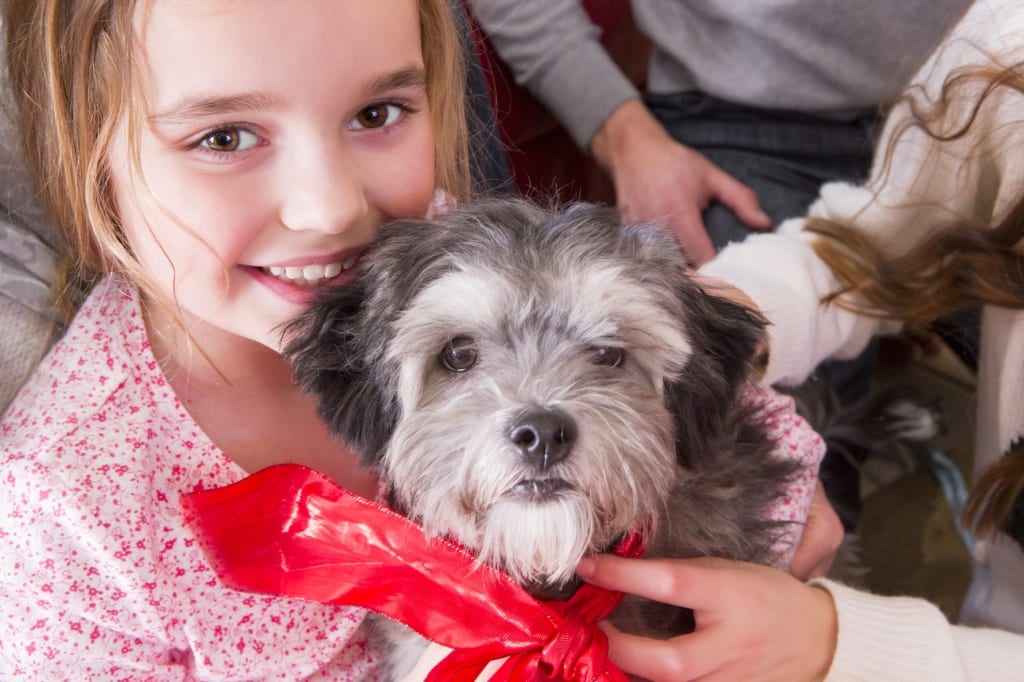 The idea of giving a friend or loved one a cute puppy, kitty, or other pet may seem enticing. After all, there are loads of movies where a new furry friend comes to the family with a bow around her neck, wagging and happy to join the crew for a lifetime of love and affection.
Sadly, giving a pet as a gift is not as picture perfect as the movies make it out to be. Adopting a new furry family member is a serious commitment that takes time and resources. If you're considering a pet as a gift, it's important to remember that caring for a pet is a lifelong choice. This makes it essential for pet parents to be a part of the process as they need to seriously consider how having a cat, dog, or another pet will affect their lives.
The Costs of Pet Ownership
Of course, having a pet is a source of boundless joy for people of all ages, but it also requires a serious investment of time, energy, and resources. Here are just a few things that all pets require in order to live happy, healthy lives with their human families:
Veterinary care, including regular checkups and pet dental care
Food
Bedding
Toys, leashes, and other accessories
Boarding or pet-sitting expenses
Time for play, exercise, and training
Grooming expenses
Home modifications, such as fencing or dog/cat doors
Owning a pet changes many of your everyday routines as well. If you think that someone in your life could benefit from having a furbaby, it's a good idea to talk with them about it and maybe volunteer to help them find a new best friend. That way you can work together, and your support and help can be invaluable in assisting your loved one in making this life-changing choice.
Another thing that people sometimes don't consider when giving animals as gifts is the problems that can arise if the pet's family doesn't have the time or willingness to provide the animal with a quality life. Not being able to care for an animal leads to people giving pets up to animal shelters or moving pets to another home. That's stressful for the pet and can lead to behaviors that make him or her less suitable for adoption or re-homing. Additionally, it can also be emotionally traumatic for the person who decides they can no longer care for the animal.
Benefits of Planned Pet Adoptions
More than anything else, selecting a furry family member to join your team is about finding a pet that's a good fit for your needs and lifestyle. Thinking about how a pet will become a part of your life is a crucial step in making sure that animals get proper care, even after the novelty of having a furry companion wears off.
An energetic and cute Border Collie puppy might be perfect for you if you live on a farm and need some help with livestock, but the same dog in an apartment home with a busy professional may become depressed, anxious, or destructive. Similarly, having a handsome older kitty who likes to lounge on the windowsill might be perfect for the professional but wouldn't work well in a family with children who want to play with him. It's all about planning and thinking through what your typical day will look like with a specific individual pet in your home.
You see, choosing a pet is all about finding an animal whose needs and personality mesh well with your family. That is why it's advisable to take time to meet a few different animals before making a decision about who to adopt: it gives the prospective pet owner a chance to think things through and figure out exactly what he or she can and cannot commit to, which in turn leads to successful adoptions that last a lifetime.
Another benefit of planned pet adoptions is the opportunity to help an animal in need. Sure, it's easy as pie to buy a new puppy or find a cat who needs a home on Craigslist, but there are loads of pets who need homes in local shelters and rescue organization foster homes, and helping animals who don't have loving families is a wonderful gift for your and the animal.
Furthermore, working with a reputable shelter or rescue organization comes with certain perks, including advice and support from seasoned animal lovers who know exactly what a new pet needs in terms of home life and medical care. You'll find some of the rescue groups and shelters that Harmony recommends on this link:
If you want to give the gift of animal love to a friend or relative, consider offering to help with adoption or medical care expenses, as well as offering to come along when your loved one goes to meet possible pets at the shelter. Alternately, you can make a dedicated donation to one of Wake County's animal rescue programs to honor a person in your life who is an animal-lover. Either way, it's best to skip the puppy or kitten under the Christmas tree, for both the sake of the pet and the sake of the person who is responsible for providing that animal with loving care and companionship for many years to come.