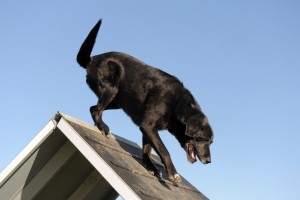 Just because you live in an apartment doesn't mean your pooch's exercise routine has to suffer. In fact, it's perfectly possible to keep your dog fit and in good shape regardless of the size of your residence.
If you think city life is interfering with your dog's exercise routine, here are some ideas on how to keep your urban dog fit and healthy.
Heading to the Local Dog Park
No matter where you live, chances are there's a dog park nearby.  You can find great dog parks at these links:
Many of these parks offer separate areas for small and large dogs, as well as nature trails or maybe even a pond for splashing in. But even if your local dog park is just a place for Fido to run off leash and be goofy, that's still plenty.
You might want to stop by the park on your own before you bring Fido around for the first time. Check the surroundings, see how large the off-leash area is, and whether there's water available or you have to bring your own. If you know other dog owners who use the same park, consider setting up playdates. All that chasing and running around is not only lots of fun, but also great for the waistline.
Trying Agility Classes
Not every dog will become a champion on the jumpers course, but that doesn't mean yours can't join an agility class and have fun in the process. While it's true that some breeds (collies, retrievers and Portuguese water dogs,for example) are particularly well suited for agility training, most dogs will enjoy the process because it feeds their natural running and chasing instinct. Plus, agility classes provide great mental stimulation for dogs that get bored easily and are likely to get in trouble because of it.
If long runs on the beach aren't an option, an agility class could also be a great way for your dog to burn calories and stay in shape. A couple of sessions a week might be the ideal solution for city dwellers who want to keep their pets fit and entertained.
Keeping Things Fun
If your only local option for keeping your dog active is taking walks, it's important to change things up regularly. If you take the same walk over and over, it will soon get boring. Instead, turn a different corner here or there, or put your dog in the car and drive to a different neighborhood for a walk.
Even meeting with a neighbor or friend so you can walk your dogs together might help. The key is to keep your dog entertained so he'll want to keep going.
Making Winter Count
If it's too cold or too wet to head outside, you'll have to improvise. Dogs that love to play fetch can still stay active indoors. Just pick a room with open spaces and no dangerous objects (like furniture with pointy corners) around. Or simply move things out of the way during playtime.
There are also plenty of educational toys in the market that can be used for active fun. Just pick something based on your dog's personality: some dogs are chasers while others are problem solvers, so take that into consideration and pick something that will stir his imagination and keep him "on his toes."