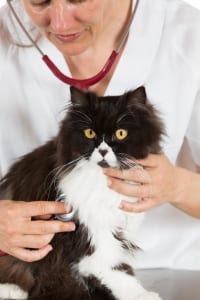 At some point every pet owner will ask themselves, "is it time to say goodbye?" Depending on the circumstances, this decision may be one of the most difficult that you will make for your pet.  There are no rules or charts that will make this decision any easier.  However, there are criteria that may help you to determine your pet's quality of life, which is the most important factor in making this decision.
Popular Activities
Determining your pet's quality of life is not always straightforward, because animals can't tell us how they feel about the matter. But a good reference would be comparing how your dog or cat behaved before illness or old age set in with his or her recent behavior.
Although older pets will not continue to play like they are puppies or kittens, they still will likely enjoy the same things.  We often ask clients to think of five activities that the pet most enjoys. Then we ask if the pet still enjoys (or is able to do) those things.  The "yes or no" answers play an important role in helping you make your decision clearer.
Keeping Track
It's also useful to keep a daily journal on how your pet is doing.  It may be as simple as writing "bad day" or "good day" on the calendar at the end of that day.  This will help you to be more objective when you're evaluating the pet's happiness and comfort over a longer period of time.  As time progresses, it should be noticeable if there is a trend in how your pet is doing overall.
Saying Goodbye
When performing euthanasia, clients often ask: "How do you do this? It must be so hard."  It's difficult to answer these questions, or to know what to say.  Of course, it IS difficult.  As your pet's veterinarian, we share the pain of saying goodbye. We too have been there with you through the important milestones, sicknesses, and sometimes long illnesses. Many of us have cried with our clients during or, in the privacy of our offices, after the procedure. Euthanasia is one of the kindest and most humane services we can offer to our patients, however, because it alleviates pain and suffering – which is the single most important aspect of veterinary medicine.  That's why, as difficult as it is, we are at peace knowing that we did the most humane thing for our patient.  Ultimately, we wish this state of grace and peace for all clients when it comes time to saying goodbye to their beloved pets.
Making the Decision
Please remember that you don't have to make this important decision alone.  Your veterinarian may often have insights to your pet's comfort and medical conditions that are affecting his or her quality of life.  By having an open and honest dialogue, you can make this important decision together, and do what is right for your faithful friend.