At Harmony Animal Hospital, we always strive to offer our furry patients the very best treatments based on the latest medical research and technologies. We are excited to have a new therapeutic machine to treat animal muscle, soft tissue, and bone pains and injuries.
Like humans, animals can suffer from stress fractures, arthritis, muscle overuse, strains, spasms, and more. Our new therapy machine provides a non-invasive healing solution for many of these types of injuries.
We're confident in our Pulse Vet X-Trode Shockwave therapy machine, which offers the latest in advanced technology based on more than 15 years of clinical research and development. Its new technology also provides comfortable treatment without the use of sedation like other shockwave models.
What can be treated with shockwave therapy?
Shockwave therapy for dogs can relieve suffering from the following conditions:
Tendon, ligament, and muscle injuries

Osteoarthritis/degenerative joint disease

Foot/heel pain

Bone fractures (stress fractures)

Back and neck pain (lumbosacral pain, arthritis)

Wound healing
Pulse Vet X-trode Electrohydraulic Shockwave – What is it and how does it work?
Shockwave therapy is a non-invasive treatment that is used in both human and veterinary and human medicine. The therapy uses high-energy sound waves to relieve pain, speed up the healing process and improve the quality of healing. This form of therapy can penetrate deeper areas of the body than other types of treatment due to its higher energy levels and the use of a focused sound wave. The sound wave acts as a mechanical force on a cellular level, causing biological reactions such as releasing proteins and other substances crucial to the healing process. Shockwave does not refer to an electrical shock.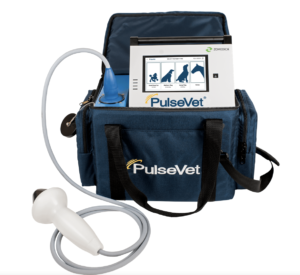 Shockwave therapy for dogs is usually fast and easy. The typical treatment time is around 5-15 minutes, and results are seen within 1 to 3 treatments. Since the therapy is a cumulative energy treatment, healing effects will take place over time.  Your veterinarian will outline what to expect. The long-lasting results can span from 6 to 12 months.
Between treatment times, your dog should rest; however, confinement is not necessary.  Post-treatment directions will vary based on your pet's specific condition, so it is important to follow your veterinarian's directions. 
Is it painful? 
Shockwave therapy is non-invasive and usually painless. In rare cases, however, sedation may be recommended to ensure your dog's comfort. 
Shockwave therapy can be a viable alternative to surgery and long-term pharmaceutical treatments. It can also reduce lameness and improve a dog's mobility. 
If your dog is suffering from bone or muscle pains, talk to one of our veterinarians at Harmony Animal Hospital today to learn about your options for treatment.