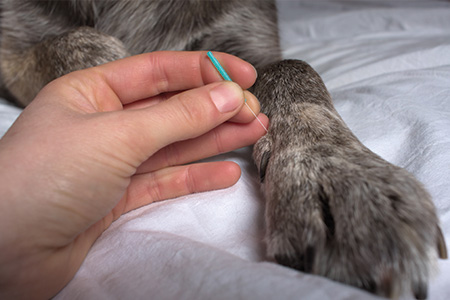 The use of acupuncture to treat a number of health conditions in humans is nothing new. In fact, acupuncture has been used in China for over 5,000 years. However, veterinary acupuncture for pets is a much younger science — but one with much to offer.
As in humans, pet acupuncture should only be performed by a certified acupuncturist who understands how to use the technique properly and safely. Dr. Elizabeth Williams is a certified acupuncturist with almost 10 years of experience in helping pets feel better and heal faster through the use of alternative therapies, including acupuncture.
What Acupuncture Can Help With
Although acupuncture can be used for a number of problems, the most widely appreciated use in veterinary medicine is for pain.  Pets suffering from arthritis, post-operative pain and hip dysplasia can highly benefit from regular acupuncture sessions. The effect of acupuncture is cumulative in the beginning and most pets will benefit from at least 3 treatments done one week apart before tapering to a lesser frequent treatment regimen.
Another common use for acupuncture is to help with stress and behaviors associated with it, such as constant licking, separation anxiety and even asthma, especially if asthma attacks are often set off by stressful situations. These are all common uses of acupuncture for dogs.
Pets that are paralyzed (both leg/hip and facial paralysis) can also benefit from the use of acupuncture, as it can help stimulate nerves and can help during physical therapy and recovery. Even in pets that are permanently disabled, the use of acupuncture can still help stimulate nerve endings and ease discomfort.
Other common uses for acupuncture include:
Many types of back, neck and elbow problems, including ligament damage, dysplasia, ligament injury and DJD (degenerative joint disease)
Limping and wobbler syndrome (difficulty keeping balance because of damage to the cervical vertebrae)
Some cases of epilepsy, especially in dogs
Hind end weakness due to hip dysplasia or old age
Liver, kidney and other metabolic disorders
Endocrine diseases, such as Cushing's disease, Addison's disease, thyroid malfunctions, and diabetes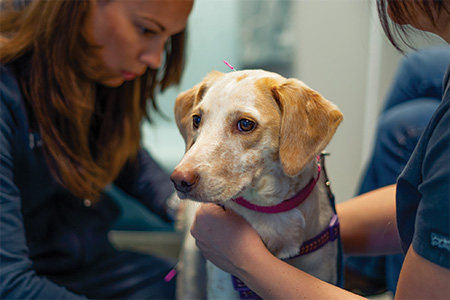 What Else Can Veterinary Acupuncture Do for Your Pet?
You don't have to wait for your pet to be ill in order to try acupuncture. In fact, acupuncture can be a great way to keep your pet's health in check and well-balanced. Athletes, elderly pets, pets with chronic conditions or those that recently went through a traumatic event (including surgery or an accident) can also benefit from receiving acupuncture regularly. If you have questions or concerns regarding the use of acupuncture on your pet, give us a call and we'll be happy to discuss things with you.
Here are a few additional reasons to try cat or dog acupuncture:
Anti-nausea and an increased sense of wellbeing while pets are undergoing chemotherapy or radiation treatment
It has been shown to help the body fight inflammation on its own
It can help relax muscles without the use of harmful medication (especially important if you have a pet with a liver or kidney condition that can be worsened by taking painkillers or anti-inflammatories)
It helps remove toxic buildup and waste from the body, improving how your pet feels
Any internal condition that has not responded or has incompletely responded to conventional therapies
Acupuncture has no side effects and can be a great alternative when medication is not an option. If your pet is already taking medication, acupuncture won't interact with it, so you don't have to worry about potential problems.
Isn't Acupuncture Painful?
Most pets find acupuncture sessions relaxing, in fact, many of our patients actually fall asleep during sessions. Although the idea of being stuck with needles might seem objectionable to you, animals experience pain differently and many won't mind the needles. This is not true of every pet, however, so you might want to have a trial session or discuss your concerns with Dr. Elizabeth before moving ahead. If your pet is fond of treats, we will encourage you to bring them to give to your pet while the needles are being placed.
Your pet's personality, his body composition (pets with more fat might feel the needles less than thin animals) and the nature of the disease all play a role in whether your pet is a good candidate for acupuncture or not. Acupuncture for pets can be a great way to solve your pet's problems without the need for medications.