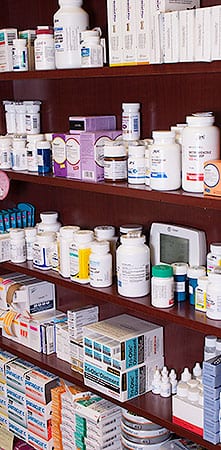 At Harmony Animal Hospital, we strive to keep your pets happy and healthy! Whenever possible, we will offer solutions and treatments that limit the use of medications. However, prescription medications are sometimes necessary for the successful prevention and treatment of many health issues, as well as being life-enhancing and life-saving for your pet.
Harmony Animal Hospital offers two convenient ways to obtain pet meds and preventatives when needed. Prescriptions can be filled in the hospital for immediate dispensing, and we offer an online pet pharmacy where medications can be shipped directly to your home.
Our in-hospital pet pharmacy has a large selection of commonly prescribed medications. However, should your pet need a prescription medication we do not routinely carry, we can easily special order this for you.  We will notify you as soon as it arrives, which is usually within 1-5 business days.
Our online pet pharmacy offers convenient 24-hour prescription requests. In addition, there is a simple auto-ship feature for medications, diets, and preventatives that your pet needs year-round that can be scheduled monthly, quarterly, or bi-annually to fit your needs and budget.  We pride ourselves that all of the products from our pharmacies are guaranteed to be of the highest quality and come directly from the manufacturer. You can also sign up for e-mail medication reminders through our patient portal to help ensure that you don't forget to give your pet's medications and preventatives.
What Is Required To Get My Pets Prescription?
It is important to understand that it is a state and federal law that all prescription medications require a current doctor-patient relationship. This means that the doctor has an understanding of the patient's medical history, current medical status, and medical needs based on communication with the patient and patient advocate (i.e., pet owner) and a current physical exam in which the doctor has physically examined the patient within the previous year.
This statute is intended to ensure the patient's safety and help the doctor develop an appropriate medical plan based on accurate and current exam findings. Prescribing medications carries a tremendous amount of responsibility on the part of the doctor. Not seeing the patient on a regular basis (minimum of once per year) could result in improper dosing due to weight changes, incorrect medications from changing or new medical problems, or life-threatening complications from drug interactions or patient allergic reactions if the doctor is unaware of the patient's current medications and previous allergies.
It is a known fact that cats and dogs age an average of seven times faster than we do, so it is even more important to examine them at least once a year, which can be compared to us receiving a physical exam only once every seven years. And as any pet owner knows, a lot can change in a short amount of time, both for us and for our beloved pets.
As our pets approach their senior years, they tend to have increased medical issues and problems. Therefore, we recommend beginning a bi-annual exam routine (one per six months) to aid in the early detection, prevention, and treatment of medical issues/concerns for our senior companions. Even simple, inexpensive recommendations, medications, and supplements can greatly benefit your pet's quality of life and can drastically increase longevity.
Filling Prescriptions Elsewhere
While you always have the option of filling your prescription at another pharmacy, buying medications from our in-hospital or online pharmacy has many benefits. The most important ones are that we guarantee our medications are not expired, have been stored according to the manufacturer's recommendations, and are coming directly from the manufacturer, preventing the possibility of counterfeit products.
Another advantage of purchasing from Harmony is the assurance of the manufacturer's product efficacy guarantee, which most manufacturers only provide if the product is purchased from your veterinarian. This could mean substantial cost savings should a product fail to meet its intended purpose. For example, suppose your pet becomes positive for heartworms while on a monthly heartworm preventative and you purchased your product from your veterinarian. In that case, many drug companies will pay for the additional testing and treatment of your pet's heartworm disease. The manufacturer would not cover this expensive treatment if you bought your product online or from another pharmacy. In addition, filling a prescription with us reduces the chances of an error with the dosage, the wrong medication being filled, and incorrect instructions being given.
If you are ever uncertain regarding a current feline or canine medication or the instructions you have been given, we welcome and encourage your questions and are happy to discuss your specific concerns. This is an added benefit of purchasing from Harmony. We know our medications, we are confident in what we administer, and we are always here to provide the most up-to-date veterinarian care in the industry. We understand, recognize, and support cost savings for our clients; therefore, in cases where we are aware of a reputable local pharmacy carrying the same medications we are prescribing at a much-reduced cost, we will actually suggest that you may want to purchase the medication at that pharmacy.
Why Choose Harmony Animal Hospital For Your Pets Medications?
Our pharmacy provides a number of services, including drug preparation, drug dosage monitoring, and drug distribution. We work very carefully to make sure your pet receives the appropriate medication and dosage to support the course of treatment prescribed.
Prescriptions are always entered into your pet's medical record. This is a legal requirement that we wholeheartedly support, as it allows us to access all prescription information quickly and avoid confusion.
Our veterinarians, technicians, and veterinary nurses are also well-trained in pet health education. This means we will be happy to help you understand the therapeutic effects of a drug, educate you on how to properly and easily administer the medication, and discuss any potential side effects or drug interactions to be aware of.
Other Services We Offer At Our Pet Pharmacy
We prepare and distribute pet medication for in-patient treatment. We do unit-dose distribution, meaning we only use the required amount, avoiding waste and reducing client costs.

We have established relationships with several compounding pharmacies to provide a wide variety of medications to ease administration, improve the taste of a medication, and ensure that your pet gets the correct amount and strength based on size, weight, and age.

We carry and sell over-the-counter pet medications such as flea, tick, and intestinal parasite preventives and prescription heartworm preventives.

We make recommendations based on your pet's specific skin issues and sell products such as medicated and non-medicated shampoos to treat skin conditions and parasites.

We educate clients on how to ensure proper drug dosage and effectiveness. For example, our team will explain whether the medication needs to be given on an empty stomach or with food, whether it could potentially interact with other drugs, and give you tips on how to get your pet to take the medications more easily.
Some things to keep in mind:
We only sell medication that has been prescribed by our vets. We cannot sell you prescription drugs if you have a prescription from a different clinic unless we have seen your pet for that particular problem and understand your pet's medical history and current needs. This goes back to the legal requirement to have an established doctor-patient relationship, constituting a current physical exam within the past year.
Refills should be requested a day in advance to help us set aside the appropriate time to prepare the proper dosage for you. Of course, we will not deny a same-day prescription, but it is so appreciated if you are able to give us at least a day to get everything in order for you.
If the medication you are buying has no refills left, you will need to speak with one of our veterinarians again to ensure you should continue administering this drug to your pet. In some instances, we may request to see your pet again to determine whether to continue the medication in the same strength/dosage or prescribe a different treatment protocol.
Our pharmacy also sells non-prescription products, including nutritional supplements, nutraceuticals, and herbal therapies. Whether you are looking for vitamins or supplements –such as immune support, varying body systems support, and/or glucosamine for joint pain and arthritis– we can help you choose the correct brand and strength for your pet.
In addition to pet meds, we also offer grooming supplies, dental health products, anti-inflammatory and pain medications, antibiotics, heart medications, anti-nausea and anti-diarrhea medications, and many other products.
If your pet has been prescribed a medical diet to help treat or support a condition (such as a liver, kidney, skin, or stomach issue), you can order specialty food at our in-hospital and online pharmacies as well. We sell both dry and wet (canned) food and will be happy to provide help deciding the correct prescription diet and the proper amount to feed. We sell a variety of brands and only offer top quality, so you can be sure your pet is getting the best there is. If you want to buy prescription food but haven't discussed this with your vet first, please make an appointment to discuss and consult on what type of food is the right choice for your pet.
We meet all the regulations set by the Veterinary Medical Board and the Federal Government regarding the dispensing and storing of veterinary medicine.
Online Pharmacies
While there are certainly reputable online pharmacies, there are just as many, if not more, illegitimate online pharmacies that sell counterfeit, expired, stolen, or tainted products.  We encourage you to research any online pharmacy you are considering buying over-the-counter or prescription products from.  As of August 2017, under the National Association of Boards of Pharmacy's (NABP) new Pharmacy Verified Websites Program, pharmacies who meet strict enrollment standards will be given the ".Pharmacy" URL. This replaces NABP's previous recommendation to look for the Vet-VIPPS seal on a pharmacy's website. For more detailed information about our policy regarding online pharmacies, potential dangers of online pharmacies and an article published by the FDA in regards to online pharmacies for pets, please see "Dangers of Online Pharmacies."