Do you have an animal whose coat requires a lot of care? Do you have a large dog that you just can't bathe yourself? Or, are you just too busy to worry about taking care of the more difficult hygiene requirements of your pet? Harmony Pet Spa in Apex, NC has you covered. Our full-service grooming facility can take care of anything. Bathing, trimming, nail clipping, even specialty services!
Services
Prices vary based on your pet's size, needs, and temperament. We are happy to do a consult with you and give you a price range for your pet. Just give us a call to set one up.
We prefer you to drop off your pet between 8-9 am so that we can talk with you about how you want your pet to look and what your goals are for the grooming session.
For your dog: 
Full-Service Groom: Your dog will come home pristine with little to no shedding.
Bath

Brush

Ear cleaning and/or plucking

De-shedding

Undercoat removal

Mat removal

Paw trim

Pretty/Handsome accessory

Deluxe Bath: Your dog will be clean and smell nice, but will still shed.

Bath

Brush
Ear cleaning and/or plucking
Nail trim
Standard Bath (Go-home bath for boarding):

Bath

Brush

Puppy Grooming Packages (up to 5 months): It's important to get your puppy to the groomer! Not so much to keep his hair cut, but to get him used to the process. We offer special puppy packages that range in price from $35 – $55 (depending on breed and size) so that your puppy will get to know us and enjoy visiting when they get bigger. We take it slow with them, so if he doesn't want all the services each time, we don't force them.

Bath

Face trim

Feet trim

Fanny trim

Nail trim

Ear cleaning
For your cat:
We don't often think that cats need to be groomed, especially the short-haired ones. However, there are many reasons to have your cat professionally groomed. Skin conditions, odor, or excessive shedding can all be helped by good grooming. In addition, it can help decrease hairballs and keep their nails from getting too sharp. Plus, have you ever tried bathing a cat? It's not easy. Let us take care of it for you!
Deluxe Cat Groom: for long-haired cats or cats that need a haircut (even short-haired cats need them now and again):

Bath
Brush
De-shedding
Nail Trim
Mat removal
Lion cut or other hair cutting/styling

Me-Ow Time Cat Groom:

Bath
Brush
Clean Ears
Nail trim
Sanitary trim (if needed)
Prim and Proper Cat Groom:
Baths and Extras:
Bath Under 35lbs: $30
Bath 35lbs – 70lbs: $35
Bath 70lbs+: $40
Bath Ears Nails (BEN) Under 35lbs: $45
Bath Ears Nails (BEN) 35lbs – 75lbs: $50
Bath Ears Nails (BEN) 70lbs+: $55
Medicated Bath: +$16
Nail Clipping: $23
Nail Dremmel: $31
Anal Gland Expression: $32

Oatmeal bath for sensitive/irritated skin

:

Free

Flea Shampoo

:

Free

Medicated Shampoo: your veterinarian will need to prescribe the right shampoo for your pet's condition. We can then apply the shampoo, per the prescription, at a groom or bath appointment

Special Requests: we are happy to handle special requests like safe coloring service, nail painting, or alternative hair-cuts. Just let us know in advance so we can make sure to have the right products on hand

Sedation is available if you think, or we determine, that your pet is too nervous or aggressive to be groomed. We require 24 hours advanced notice and your pet will be kept in the treatment area the entire time for monitoring. Please call for pricing as it varies based on weight.
When grooming or bathing your pet, if we notice any issues (like their anal glands need to be expressed) we make every effort to call you in advance.
All baths are performed by our resort staff.
We cannot accept any pet that has ringworm. If you suspect a ringworm infection please make an appointment with the Animal Hospital before scheduling at the Spa.
Call today for an appointment and for current pricing.
Get to know our Groomer, Kim Needre: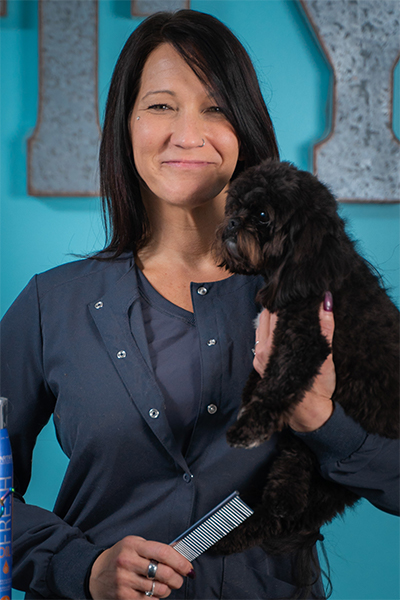 How did you arrive at your current position, What path brought you here?
I got my first job bathing animals in high school and then became a veterinary assistant when I graduated. I switched to grooming animals in New York in 2004 and have been doing it ever since. I even had my own grooming salon in New York for five years before moving back to North Carolina in 2009.
What are you known for professionally, What do you have a knack for?
My specialty is getting to know our clients and their pets and doing the right style for them. We talk about everything when I check them in. I ask them what length they want their dog's hair, how they want the face to be framed, and make sure I always deliver the best look for them!
What are you most passionate about professionally?  What excites you most about your work and the contribution you can make?
I have always been an animal lover and interacting with dogs every day is one of my favorite parts of my job! I also love interacting with our clients who bring their animals here. I couldn't live without our excellent Harmony bather Ajia who helps me tremendously. I love working with the dogs and seeing them leave all clean and dapper.
How long have you been doing what you do?
I've been working with animals in some capacity since high school but started professionally grooming in 2004.
Where did you grow up?
I grew up in Massachusetts and moved to North Carolina in middle school.
Where can we find you when you're not working? What's your favorite way to spend a weekend or a Sunday afternoon?
You'll find me spending time with my daughters aged 9 to 20. We love all the summer activities like fishing, river tubing, canoeing, basically anything outdoors that you can do in warmer weather. All my girls enjoy spending time together being active. I have no fur babies right now but I'm in the market for a sweet puppy soon!
Next time you are at Harmony, stop in the Pet Resort and Spa to say "Hi!" to Kim.