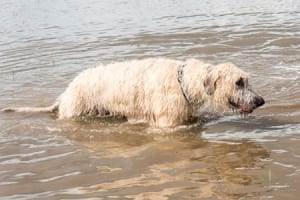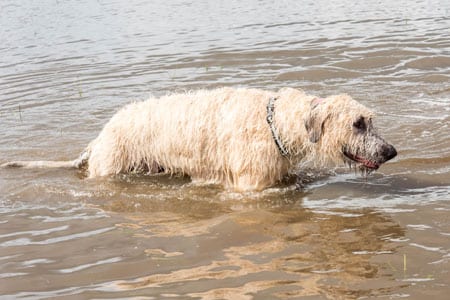 The recent flooding in South Carolina stands as a solemn reminder of the importance of disaster preparedness for families everywhere. Our sister state's flooding has left thousands of homes without water and triggered hundreds of evacuations. Flood waters have burst dams and shut down roads, bridges, and businesses around the state, causing what is likely to be billions of dollars-worth of damage. Even worse, the disaster's death toll has reached 14, and South Carolina rescue agencies have had to save nearly 200 people from flooded areas.
With hurricane season in full swing and winter storms ahead, North Carolina families are encouraged to make a complete disaster preparedness plan that includes supplies and arrangements for your pets. This way, if disaster strikes, every one of your beloved family members stays safe and secure, including your furry companions.
Here are 6 critical tips for pet owners who want to keep their furry family members safe during a hurricane, flood, winter storm, tornado, fire, or other natural disaster.
Pet-Friendly Emergency Options in Wake County
Red Cross offers shelter for people who must evacuate their homes, but these shelters do not accept animals. If you have furbabies in your life, you have to be extra well prepared for emergencies so that your furry family members are safely sheltered. Here are a few ideas for pet parents making an emergency preparedness plan.
Ask your veterinarian for a kennel referral. Some kennels and pet boarding facilities may be able to shelter your pets if you have to evacuate. If you have a boarding facility that you currently use, call them and ask about emergency shelter services. It may also be a good idea to find a kennel or boarding facility outside your immediate area in case your usual pet boarders are not in a position to accept guests during an emergency.
Contact friends and relatives outside your immediate area about emergency shelter for your furbabies. Although it's wonderful to keep the whole family together in the event of an evacuation, it may not always be possible, so we recommend talking with friends and family members outside your immediate area and seeing if they are willing to care for your furry friends in case of an emergency evacuation.
Find pet-friendly hotels and lodging. Bringfido.com and petfriendlytravel.com both have lists of Wake County-area hotels and motels that accept families with pets. Also, during emergencies, some hotels and motels change their pet policies to accommodate families with furbabies, so make a few calls to find a hotel or motel that can shelter you and your pets in the event of an evacuation.
Contact the SPCA of Wake County and the Wake County Animal Center and inquire about emergency sheltering programs. Depending on the circumstances of the emergency, these facilities may be able to accept admissions during storms and other emergencies. Make a plan to contact these organizations ahead of time to find out what their policies are.
6 Disaster Preparedness Tips for Pet Owners
Microchip and/or Tag Your Pets.
If you and your furbabies get separated due to a natural disaster, it's really important that emergency responders and others can identify your pets so you can be reunited. Microchipping is a simple procedure that will make your furbabies easy to identify, and collars and tags with your contact information, any urgent medical needs your pet has, and other critical details can go a long way toward assuring that your family stays intact even if you are temporarily separated.
Get a Pet Alert Sticker for Your Home.
If disaster strikes, you want rescuers and emergency responders to be able to help save your pets if they get trapped in your home.
A pet alert sticker on your front door or window should indicate how many pets you have, what type of pets you own, and the name and contact number for your veterinarian.
If you are forced to evacuate and have enough time to do so, write "EVACUATED" across the sticker before you leave.
Make Arrangements for Sheltering Your Pets.
If worse comes to worst, you will want to have a safe haven arranged for your pets. Not all emergency shelters accept animals, so it's important to do some research ahead of time so that your furry family members have a safe place to stay in the event of an emergency.
Identify a Designated Caregiver.
Selecting both a temporary and permanent caregiver for your furbabies is bound to be difficult, but it's also important. A temporary caregiver should be given keys to your home and information about your pets and their needs so that they can step in and help if you are unable to care for your pets temporarily during a crisis. Ideally, select someone who lives close to your home and can come to help your pets at a moment's notice. For permanent caregivers, you want to find someone who is committed to your pet's long-term well-being and is able to care for them even if something terrible happens and your furbabies need a permanent new home.
Prepare an Evacuation Kit with Essential Pet Supplies.
An ounce of prevention is worth a pound of cure, and so having a ready-at-hand evacuation kit for your furbabies can be a real lifesaver. Here are a few things you should definitely have handy in your pet evacuation kit.
3-7 days' worth of dry or canned food and 7 days' worth of bottled water.
Plastic food and water bowls.
Disposable litter pan, litter, and/or paper towels for kitty elimination.
Soap, disinfectant, and garbage bags.
Extra collar, leash, and harness, if applicable.
Blanket for wrapping up or lifting a frightened pet.
Animal first aid kit.
Copies of your furbaby's medical records and a water-tight container with a 14-day supply of any medication your pet needs.
A crate or carrier for each pet.
Recent photographs of your pets. If you become separated, these pictures can help others identify your furry friends and return them to you.
Toys and other things your animal enjoys and uses for comfort and fun at home.
Make an At-Home Disaster Response Plan.
If your home is in the path of a major storm, you may not have much time to react and you may not know immediately if evacuation will be necessary. In order to be as prepared as possible, consider the following:
Identify a safe zone in the home where you and your furry family members can take shelter if necessary. This room or space should be structurally sound, away from windows and debris, and have easy access to an exit and a supply of water. Easily-cleaned areas like basements, utility rooms, and laundry rooms work well as safe zones. If you are concerned about flooding, identify a safe zone in a part of the house that is as high off the ground as possible so that you and your furbabies do not get trapped.
Keep your pets indoors if it's stormy or the forecast calls for bad weather. Animals are sensitive to weather events and can become distressed or disoriented. If your pet becomes confused or frightened, they may flee or wander off and get lost.
Store your emergency supplies and evacuation kit as near to an exit from the home as possible.
Don't Wait 
Don't wait for the next disaster to strike to realize you don't have a plan in place. Prepare now and practice regularly with your pets so you're able to do what's necessary even in a stressful situation. Make the practices fun for your pet with games and treats so she goes along easily with you, then when the time comes your plan will be carried out seamlessly.