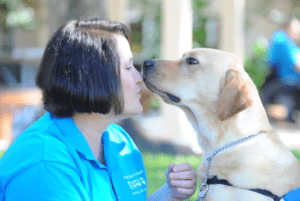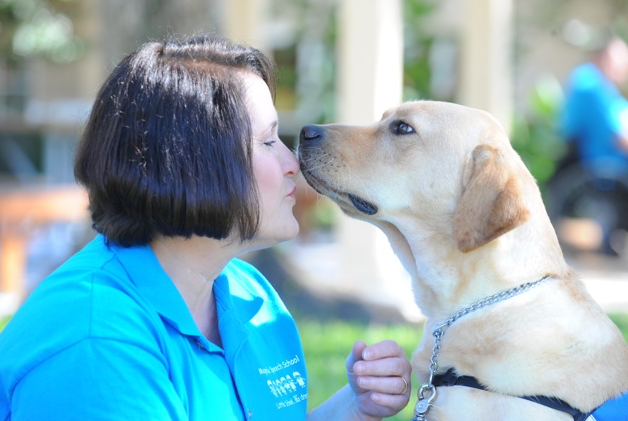 Imagine a dog who could retrieve dropped belongings, turn light switches on and off or even hand packages or checks to a sales associate. Imagine one who works full time in a special education classroom or nursing home, helping engage students and residents in activities. Or even imagine one who can respond to noise alerts such as the end of a dryer cycle or a social media tone.
Canine Companions for Independence (CCI), the country's "largest non-profit provider of assistance dogs," breeds, trains and places working dogs all over the country who can do many of those things and more – over 40 specialized commands in all! With four specific types of dogs trained to provide assistance, chances are you've seen a CCI dog at her job, even if you didn't realize it.
Types of Assistance Dogs
The four types of assistance dogs can be seen all over your community:
Service dogs
These pups assist adults with physical disabilities, performing functions ranging from pulling a manual wheelchair to handing items to a store clerk. They help their companions live more fully independent lives, and they also provide social support.
Skilled companion dogs
The folks who utilize these dogs don't live alone but can use some extra assistance to help with independence from physical, cognitive or developmental disabilities. Skilled companion dogs offer a calming presence and can help the individual feel more self-reliant.
Facility dogs
These hard workers put in a minimum of 20 hours a week at an approved facility working with a variety of individuals every day. A facility dog might work in a hospital, psychiatric facility, special education classroom, nursing home or even a courtroom. Oberto, a facility dog who works at a school for children with communicative disorders, was taught to turn book pages with his nose so the kids will want to read with him. Facility dogs offer companionship, encouragement and unconditional love.
Hearing dogs
CCI doesn't train dogs to assist the blind, but they do offer working pups who can alert deaf or hard-of-hearing individuals to various sounds. These dogs are smart and adaptable and can quickly learn their companion's schedule to respond to sounds unique to their lifestyle.
CCI, which opened in 1975, currently operates in all 50 states, with six regional training offices. This enables CCI to help anyone in the country get a service dog free of charge if they can demonstrate eligibility for one of their four kinds of assistance dog teams. It also makes their mandatory two-week training course relatively accessible geographically for the individuals granted an assistance dog.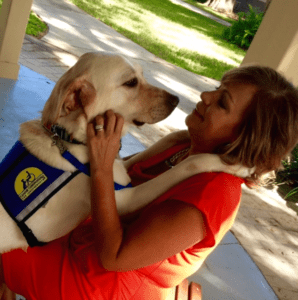 Because CCI selectively breeds their puppies and has their own volunteers whelp and raise them until they're old enough to be handed over to volunteer trainers, the organization can guarantee success every step of the way. The dedicated puppy raisers pay all the costs associated with raising the pups for the 18-22 months they have them. Harmony Animal Hospital is proud to partner with CCI by providing veterinary care for their dogs in the Triangle, including Oberto, Leith and Idle, all dogs that Monica Laliberte of WRAL – a long-time volunteer trainer for CCI – has raised. Recipients of a CCI dog have the peace of mind of knowing their companion has been carefully selected, cared for and trained up to the highest standard.
And CCI's program works. In a recent bi-annual graduate study of every human-dog assistance team, all four types of working dogs scored over 90 percent in satisfaction ratings. Some highlights:
93 percent of service dog recipients have an improved emotional well-being.
97 percent of hearing dog recipients have an increased sense of safety.
97 percent of facility dog facilitators report clients are calmer than at the beginning of the dog's tenure.
95 percent of skilled companion recipients report improved emotional well-being.
In addition to serving the general population, the nonprofit has launched the Wounded Veterans' Initiative, a nationally recognized program that provides assistance dogs to wounded veterans. The dogs give a boost to returning soldiers trying to get their lives back after significant combat injury. So far, the program has been a resounding success. Says Matthew, a former athlete and Army veteran who became a quadriplegic following severe injuries in Iraq, about his new companion, "Gus allows me to be so much more independent. It's easier to get around and having a buddy by my side to do things with has changed our lives." Laliberte says she's proud to help make "a wonderful difference for the people whose lives are forever changed by CCI Assistance Dogs – people who needed a hand and found a PAW!"
Canine Companions for Independence relies solely on private volunteers and funding to continue running. To make a donation that can help the organization with training service dogs, visit their site or call (866) 224-3647.