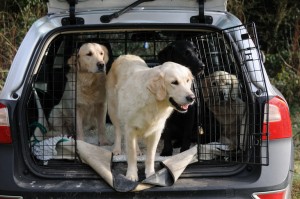 Are you leaving town for the Fourth of July weekend? Or maybe just thinking about pet boarding now that summer is here and you have some vacation time coming?
If you have a pet, taking off is not as easy as buying a ticket or filling up the car – you also have Fido or Fluffy to think about. Picking the right boarding kennel means not only a better time for your pooch or kitty, but also peace of mind for you while you're away. Here are some tips to help you pick the best boarding option.
Tip #1: Find out what their health regulations are
When it comes to paperwork, not all boarding facilities are the same. Some require only proof of vaccination to accept an animal while others might request a current vet exam or a blood test. For example, in some places, you will have to show yearly fecal exam results or proof of a bordetella vaccination received in the last 12 months. Contact us today to schedule an appointment so your fur-baby is fully prepared for their own vacation!
Tip #2: Check the pet boarding environment
While making hotel reservations over the internet might be okay for humans, taking a personal tour of a pet boarding kennel makes a lot of sense when you're looking for a hotel for dogs or cats. Why? Well, because pets can't complain about the facilities once they check in.
Ideally, you want a place that will take you to the back and let you see where the pets are kept and where yours will be housed. That way you can check first hand whether the facility is clean, how it smells, and how organized it is.
You should also look closely at the environment. Is this a cage-based kennel? If yes, you need to know how often pets are taken out for potty breaks and whether they have scheduled playtime every day. Not all pets are the same, and puppies might need more playtime while older pets might just prefer a quiet, comfortable place to rest.
If you're concerned about your furry one being in a cage for long periods of time, a cage-free facility might be a better choice for you.
Tip #3: Be clear about what is offered
Pet boarding facilities come in all shapes, forms and quality. Some are just basic places to keep your pet safe and fed while you're away. Others will go the extra mile and add special bedding, toys, medication administration, and even live video feeds so you can keep an eye on your pooch while you're away. These extra services are not always included in the basic fee, so make sure you find out what you're getting and how much it will cost you.
One important question to ask if your pet is taking medication is "who gives the medication?" Ideally you want a trained person (such as a vet tech) to be in charge. You should also make sure the facility has experience dealing with medical issues. For example, what happens during an emergency? Can they bring your pet to the vet right away? A proper pet boarding place should agree not only to do that, but also to contact your regular vet for treatment.
Something to keep in mind: if your pet is taking medication, contact your vet in advance to refill your prescriptions before you leave town.  Another good thing to add to your vacation checklist is to contact your regular vet to let them know where your fur-baby will be staying once you've picked the best place.  Also let them know who you've authorized to make medical and/or financial decisions in your absence, so just in case anything comes up they are aware of how to proceed.
In the end, the best thing you can do is research multiple kennels or catteries so you can compare what they have to offer and choose the best fit for your pet. Nothing beats the peace of mind that comes from knowing you're leaving your fur baby in the hands of capable, responsible people who will take care of him or her.