Remembering Carl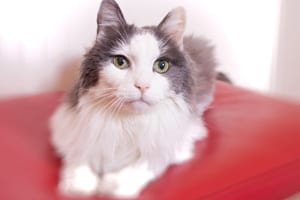 Carl claimed the title of Hospital Kitty in early 2010. Found wandering the grounds of a local apartment complex, Carl found his way to Harmony Animal Hospital via the home of one of our clients. When Renee, an owner of several dogs, opened her door to investigate the commotion Carl was making outside her home by pawing at her front door and meowing noisily, Carl ran inside and made himself right at home.A lover of his canine brethren, Carl was unfazed by the doggie residents. Despite his charm, though, Carl was brought to Harmony Animal Hospital by his finder as a stray, and after an exhaustive but unsuccessful search for his owners, Harmony claimed him as one of our own.We think that might have been Carl's plan all along. After all, he was truly at home here, keeping track of everybody's movements and making sure the clinic is run the way it's supposed to be. As a lover and not a fighter, Carl could often be found in the lobby greeting both patients and clients alike. True to his needy demeanor, Carl also frequented the Exam Rooms by meowing outside the doors until he was let in to join the activity inside. Carl enjoyed shining shoes with his front paws, purring so much that he drooled, comforting clients in their time of need, and remained permanently in denial of his purse fixation.
Carl and Cancer
In March of 2014, Carl had to have surgery to remove part of his intestines. The biopsies showed cancer localized in his intestines, called Adenocarcinoma. He made a wonderful recovery thanks in part to your warm thoughts, kind words and prayers. We also owe much thanks to the amazing oncologists as VSH in Cary, who we worked closely with to provide several chemotherapy treatments to optimize his chances for a long, healthy life.
Carl Update January 26, 2015
Carl initially thrived after his surgery. He finished his course of chemotherapy and we continued to monitor him closely. His last ultrasound showed some slightly enlarged lymph nodes in his belly that we tested, and they came back only inflammatory with no evidence of cancer. He also had a firm swelling on his belly where his incision from the surgery was. We performed a biopsy to ensure there was nothing to be concerned about.
Carl also got a dental cleaning the following week (first week in February 2015) to shine up his pearly whites and ensure we were doing everything possible to keep infection and inflammation throughout his body in check. He maintained his weight and continued to eat very well…including plastic and stuff all around the hospital…bad kitty!Thanks for all the love and support for our boy!!
Carl Update March 7, 2015:
Dear Harmony family and friends,
It is with the heaviest heart that I write to you. After a long battle with cancer we said goodbye to our sweet boy, Carl, today. Over the past week, we watched him fade a little bit more every day. With lots of tears and much discussion, as promised, we, as his family, agreed it was time to let him go before he truly started to suffer.
We held a beautiful ceremony for him. We surrounded him with many family members and lots of love. Carl had a great morning. He was waited on hand and foot by all of us. He even rallied just a little bit to play with his little brother, Russell, which we haven't seen in quite some time. Once the time came to say our goodbyes, he rested comfortably in his soft cushy bed. He was calm and serene as he gave us a look that seemed to say "It's okay, I'm ready." As anyone who has ever struggled with such a difficult decision knows, the comfort of that look dissipates all doubt and guilt.
As the sharp pain and heartache of losing such a dear friend and integral member of our family eventually fades, I know we will all be left with the joy and honor of having so many wonderful memories of him. His beautiful life will carry on in the many heartwarming stories shared by literally hundreds of people. He will always be remembered by all of us who had the fortune and pleasure of spending time with him.
We have all found comfort in knowing that wherever Carl is today he is safe, he is warm, and he is without pain. Undoubtedly, his kind, sweet, intuitive spirit will find peace and love everywhere it goes. I am so grateful for all the warm, heartfelt wishes to Carl for a safe journey to the Rainbow Bridge where I know he will be greeted and welcomed by so many other amazing, beautiful and missed friends we have all lost along the way.
A huge hug goes out to all who are reading this because your love and support during the past couple of months has been astounding and so appreciated. Thank you from the bottom of our hearts.
Much Love,
Dr. Jodi and Your Harmony Family
Memorial Page
*You can visit our Facebook Memorial Page for Carl and leave a comment or a memory, either for him or for one of your own furbabies who has crossed over the Rainbow Bridge. Carl lives on in the memory of the Harmony family and friends.