Blizzard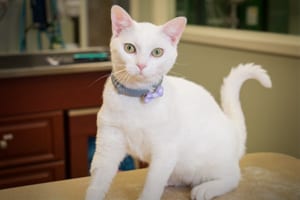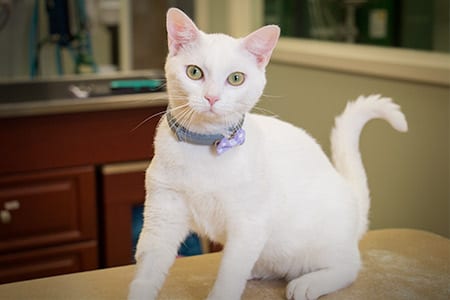 In late January 2016, Blizzard was found during a winter storm by a good samaritan and brought to Harmony Animal Hospital. He was just a kitten, barely old enough to eat solid food, and in need of medical care. As he recovered from his ordeal, it was discovered that Blizzard had a pretty significant heart murmur. Unsure if he would be a good candidate for outside adoption due to his condition, the staff at Harmony sent him to the specialists over at the NC State College of Veterinary Medicine. It was determined that in spite of his heart defect, he should live a normal and healthy life!
Making the Adjustment
By this point, Blizzard had been staying with us for a few weeks and suffice to say had worked his way into our hearts. Blizzard was adjusting well to hospital cat life, and we began discussing making him a permanent fixture of our team. As many of our longtime clients know, we lost our dear friend Carl in early 2015. We had always known that one day, when the time was right, we'd elect another Ambassador kitty to join Russell. As it happens, Blizzard took on the "little brother" role, much as Russell had with Carl, and it was soon clear to us that he would be sticking around. A brief vote at a staff meeting, where all hands were raised in favor, was all it took to make things official.
Blizzard's Interests
Named for his white coat and the wintery weather he was found in, Blizzard's interests include annoying his big brother Russell, mistaking trash for an exciting new toy, laying in wait around corners to sneak attack the ankles of unsuspecting staff, and dramatically meowing when he wants attention. Additionally, he fancies himself a junior Picasso, and enjoys playing in the sink and then leaving a trail of wet kitty prints over whatever papers he can find.
Often found intentionally knocking things over in the treatment area, he can also be spotted making impromptu rounds of the reception area in the early morning or late evening when things are quieter. Being a youngster, Blizzard provides us with much-needed laughs on a daily basis as we watch him grow and discover the world around him.